Olive Harvest Delegation
October 29 - November 11, 2011

Delegation Leaders: Scott Kennedy & Lisa Nessan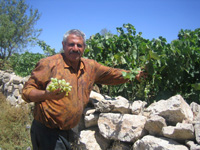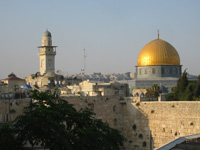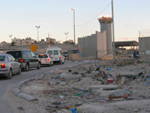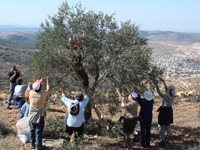 This delegation will provide an opportunity to participate in the Palestinian olive harvest season — generally a time of great community activism, where people of all ages from Palestine, Israeli peace and justice groups, and international groups join farmers as they reap their harvest. It is international support that makes the harvest possible in many cases. You will hear from Palestinian farmers and learn of the importance of agriculture to the Palestinian economy and culture. As with other delegations, you will also meet additional Israelis and Palestinians working for peace and justice.
To learn more about the standard components of all delegations, click here.
Join Email List for This Delegation
DEADLINE TO APPLY: Applications will be accepted on a rolling basis until mid September 2011 or until the delegation fills. Our last several delegations have filled up several months before departure, so please apply as soon as possible to reserve your space.
Leaders
Scott Kennedy has traveled to the Middle East more than 40 times and has led three dozen delegations to Israel and the Occupied Palestinian Territories as early as the 1970's and as recently as 2010. He is Chair of the national board of Interfaith Peace-Builders, served as founding chair of the Fellowship of Reconciliation (FOR) Middle East Task Force and the chair of the National Council of FOR. Scott co-founded the Resource Center for Nonviolence in Santa Cruz, California, in 1976. He served on the national Steering Committee of Witness for Peace in Nicaragua from 1983-1988, and helped found Middle East Witness from 1988-1993. Scott was elected to the Santa Cruz California City Council for three terms and served twice as mayor. He is Vice President of the National Youth Advocate Program. Scott is active locally in the United Methodist Church and with the Palestine Israel Action Committee. He has written about Middle East issues and active nonviolence in the Middle East for many periodicals and books.
Lisa Nessan is a Jewish American photographer from the San Francisco Bay Area. Lisa first visited Israel when she was 16 and later studied there in 1997-98. From 2002 to 2005 she lived and worked in the West Bank documenting and supporting grassroots nonviolent resistance against the occupation. Lisa has conducted nonviolence trainings for international volunteers working with the International Solidarity Movement and coordinated with Israeli, Palestinian and international organizations in Israel and the West Bank to facilitate support for Palestinian communities faced with Israeli military and settler violence. She has been leading delegations to the region for IFPB and Global Exchange since 2001.
Logistics
The cost of the Olive Harvest delegation will be around $2200. This includes 13 days of the delegation, hotel and home stay accommodations, breakfasts and dinners, local transportation, guides, speaker/event fees, basic tips and gratuities. Partial scholarships may be available for those with demonstrable need.
The price of the Olive Harvest delegation is about $100 more than our other delegations because of the extra transportation and event cost incurred in getting to sites where we can learn more about issues facing olive growers and farmers. We don't want this surcharge to be a barrier to your participation; please let us know if the extra $100 causes hardship for you.
The cost does not include domestic and international airfare. Interfaith Peace-Builders works with a local travel agent in Jerusalem to secure the best group rates for the delegation to travel together on the same flight from Washington, DC to Israel/Palestine. Therefore, delegates do not need to book their own international airfare.
Delegates will be expected make arrangements to be in Washington DC for the start of orientation.
Click here to learn much more about delegation specifics,
including who we meet, cost, application information
Photos from Past Delegations