2012 Civil & Human Rights Delegation to Israel/Palestine
sponsored by the Dorothy Cotton Institute
in partnership with Interfaith Peace-Builders

October 15, 2012 - The Dorothy Cotton Institute has partnered with Interfaith Peace-Builders to organize an important delegation of Civil and Human Rights leaders. The Dorothy Cotton Institute is the initiator and organizer of the project. IFPB is providing consultation and logistical support. Read the delegation's reports on this blog site.
About the Civil and Human Rights Delegation:
The Civil & Human Rights Delegation is an historic trip of prominent leaders – both veterans of the U.S. Civil Rights movement and the next generation of human rights leaders – to the West Bank and Israel to meet with the leaders of the Palestinian nonviolent resistance movement and their Israeli allies.

In a region wracked by violence, this movement (which draws its inspiration from Gandhi, King, and the U.S. Civil Rights movement) stands as perhaps the most salient modern test of the power of nonviolent resistance to bring about social justice and social change. As such, it has the capacity to transform the Palestinian struggle for justice, offering the greatest hope for peace, security and the expression of full human rights for Palestinians, Israelis and all in the region. Equally important, it presents a special opportunity to learn lessons transferable to others throughout the world seeking nonviolent paths to justice and peace.
The Delegation's Collective Goals:
Responding to requests to increase the international visibility of the Palestinian and Israeli non-violent resistance movements;
Supporting the efforts of Palestinians and their Israeli allies to ensure human rights, justice and security for all;
Developing ongoing relationships between American Civil Rights movement leaders, younger American human rights leaders, and the leaders of the Palestinian non-violent movement and their Israeli allies;
Learning from one another about non-violence, effective solidarity and social transformation – in general, and in the American and Palestinian-Israeli contexts;
Exploring effective strategies for Americans to support efforts for justice and security for all in Israel and the West Bank; and
Educating Americans about the Palestinian and Israeli non-violent movements, with a special focus on the role that the U.S. (and multi-national organizations with U.S. ties) play in supporting the status quo or change.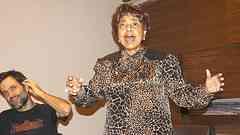 Dorothy Cotton sings freedom songs at a meeting with Israeli and Palestinian activists (click for high quality photos from the delegation)
The delegation includes the following individuals (click here for full bios):
Dorothy Cotton
Vincent Harding
Dr. Clayborne Carson
Richard Deats
Jeff Furman
Alan Gilbert
Robert L. Harris, Jr.
Sara Hess
Aljosie Aldrich Knight
Reverend Carolyn McKinstry
Paula M. Rayman
Alice Rothchild
Dr. James Turner
Rabbi Joseph Berman
Rev. Lucas Johnson
Rev. Osagyefo Uhuru Sekou
Kirby Edmonds
Laura Ward Branca
Margo Hittleman
Rabbi Brian Walt
Allie Perry
Donnie I. Betts
Marne O'Shae

For more information, see http://dcidelegation2012.blogspot.com.