GRASSROOTS ADVOCACY TRAINING & LOBBY DAY 2011
Watch the Video and Spread the Word!
March 6-7, 2011 · Washington, DC
REGISTER BEFORE MARCH 1! SPACES ARE QUICKLY FILLING UP!
As grassroots movements for democracy sweep the Middle East, now is the perfect time for you to come to Washington, DC, to build your activist skills and advocate to change U.S. policy toward Palestine/Israel to support human rights, international law, and equality.

We are excited to co-sponsor -- with two of our member organizations: the American Friends Service Committee and Interfaith Peace-Builders -- three days of exciting events:

On Sunday, March 6 and Monday, March 7, everyone is invited to the IFPB/US Campaign Grassroots Advocacy Training & Lobby Day 2011.
Watch our two-minute promotional video here:
The event will provide seasoned organizers and new activists with the skills and experience needed to make a real impact.

As the US-led 'peace process' hits new snags, the importance of grassroots action has never been greater! The latest election provides a new opportunity for citizens to engage United States policy.  

Confirmed speakers include:
Abed Ayoub, Anna Baltzer, Jennifer Bing-Canar, Mark Braverman, Dalt Baum, Mike Daly, Joe Groves, Nadia Hijab, Adam Horowitz, Andrew Kadi, Daoud Nassar, Loubna Qutami, and Josh Ruebner.


Click here for more information, including:
SCHEDULE OF EVENTS, LOCATION, and TRANSPORTATION
REGISTER TODAY!
Hundreds of people from around the country attended the first two Grassroots Advocacy Training and Lobby Days in 2009 and 2011. In March 2011, important new voices will join the event and help us forge a path for the movement for peace and justice in Israel/Palestine to move forward.
Join Interfaith Peace-Builders, the U.S. Campaign to End the Israeli Occupation, and analysts and activists at the forefront of the movement for Israeli-Palestinian peace, for a unique opportunity to make real change.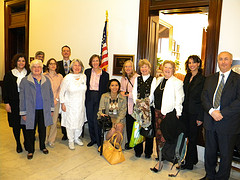 Registration for the training and lobby day is a
sliding scale donation of $40 - $110
(student rate: $35)
REGISTER HERE


Registrations will be accepted up until Tuesday, March 1
click here for lodging and travel information
This event is sponsored by:
Interfaith Peace-Builders and the US Campaign to End the Israeli Occupation
Endorsed by:
American Arab Anti-Discrimination Committee, Christian Peacemaker Teams - Palestine, CODEPINK: Women for Peace, the Fellowship of Reconciliation, Friends of Sabeel - North America, Friends of Tent of Nations - North America, the Islamic Circle of North America, ICNA Council for Social Justice, the Israeli Committee Against House Demolitions - USA, Jewish Voice for Peace, the Middle East Research and Information Project, the National Peace Foundation, Students for Justice in Palestine (American University), the Washington Peace Center, and others to be announced

CLICK HERE TO DOWNLOAD AND DISTRIBUTE THE FLYER!