2014 Today's Youth, Tomorrow's Leaders Delegation
Interfaith Peace-Builders and American Friends Service Committee Delegation Arrives in Israel/Palestine

1 June 2014 - Interfaith Peace-Builders (IFPB) and the American Friends Service Committee (AFSC) are pleased to announce that our 23 member delegation to Palestine/Israel arrived at Ben-Gurion airport Monday and is now in Jerusalem.

The purpose of this delegation is to provide an educational and engaging experience that connects North Americans with just a fraction of the many extraordinary grassroots activists, community groups and organizations that work for justice in Palestine/Israel. 
Participants on this Interfaith Peace-Builders delegation have the opportunity to hear directly from Palestinian communities and activists about their ongoing resistance to encroaching settlements and dispossession, as well as Israeli and international activists that organize in solidarity.
This intergenerational delegation, IFPB's 50th, will focus on how various issues affect youth - with visits to meet and learn about access to education, Palestinian refugees and the Nakba, mass incarceration and political prisoners, control of natural resources and effects on the environment, expanding settlements and infrastructure, and ongoing displacement.
This delegation will also see the effects of Israeli policies on various cities including occupied Jerusalem, Jaffa, Nablus, Hebron and Ramallah. By learning about the multi-faceted ways and places in which Palestinians resist occupation - including steadfastness, art and theater, popular committees, community centers, Israeli refusers, Boycott Divestment & Sanctions (& many more!), delegates will gain a deeper understanding of the diverse methods used by the Palestinian grassroots in the fight for justice and peace. 
Updates from the delegation will be posted on the delegation's Tumblr, IFPB's Facebook page, and Twitter stream.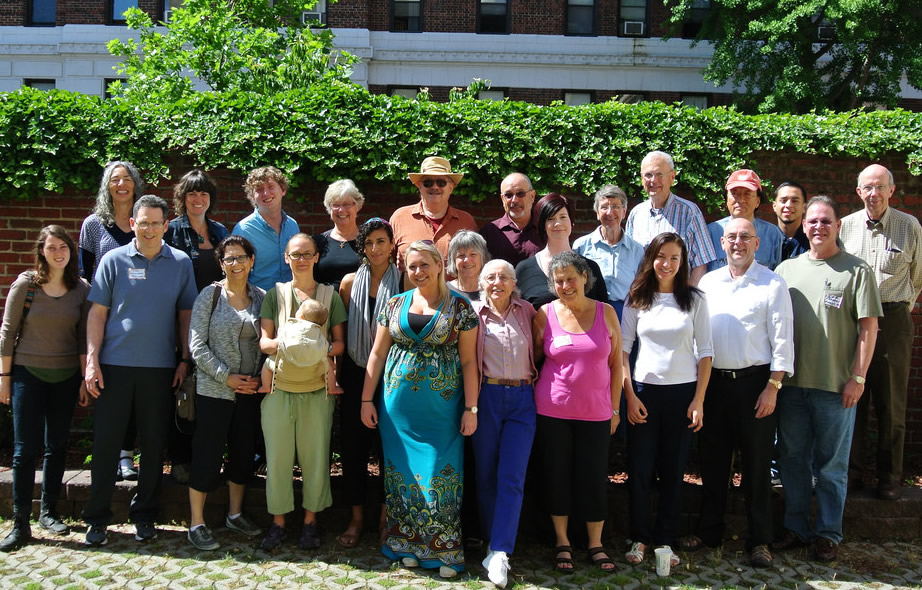 A photo of the delegates at orientation in Washington, DC
The fabulous delegates for our 50th delegation: 

Rae Abileah- San Francisco, California
Bee Arneson - Albuquerque, New Mexico
Cliff Bennett - Moretown, Vermont
Sally Campbell - Hornby Island, British Columbia
Anne Champion - Brookline, Massachusetts
Maria Campbell - Atlanta, Georgia
Naomi Dann - Portland, Oregon
Bernie Eisenberg - Los Angeles, California
Desiree Fairooz - Arlington, Virginia
Dee Froeber - Raleigh, North Carolina
Donald Greenspon - Huntington Woods, Michigan
Andrew Guerrero - La Puente, California
Maia Carter-Hallward - Acworth, Georgia
Dale Han - West Nyac, New York
Mary Ann & Doug Kerr - Cleveland Heights, Ohio
Barbara Lieberman - Seattle, Washington
Sharon Meyer-Greenspon - Huntington Woods, Michigan
Andrew Nepstad - Rociada, New Mexico
Carrol & Bob Pearson - Rociada, New Mexico
Sam Tuttelman - Petaluma, California
Ruth Zalph - Chapel Hill, North Carolina

In addition to posts on the Tumblr, IFPB delegation participants may be blogging and tweeting about their experiences. Individual writings reflect the views of delegation participants only, and not necessarily Interfaith Peace-Builders or partners.
Blogs by delegation members:
Twitter streams by delegation members:
Follow IFPB on Twitter @IFPBdelegations


Interfaith Peace-Builders believes in the power of eye-witness experience. Given the opportunity to see conditions on the ground and speak directly with Palestinians and Israeli grassroots activists and community leaders, delegates return to the United States better informed, more energized, and with a deeper understanding of their paths for concrete action towards justice and peace. 

Media interested in interviewing the participants when they return, and groups wanting information about speaking engagements, should contact Interfaith Peace-Builders at media-at-ifpb.org or 415.240.4607.