July 2017 Delegation
Interfaith Network for Justice in Palestine
July 22 - August 4, 2017
Co-Sponsored with American Muslims for Palestine, Jewish Voice for Peace, and the Presbyterian Peace Fellowship

_______________________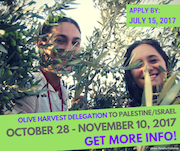 Interfaith Peace-Builders is pleased to announce that the majority of our 23-member delegation to Palestine/Israel arrived at Ben-Gurion airport Monday and is in Jerusalem.
The delegation, co-sponsored by American Muslims for Palestine, Jewish Voice for Peace, and the Presbyterian Peace Fellowship, is traveling under the auspices of the Interfaith Network for Justice in Palestine.
Follow the delegation to read delegate reflections from the grounds, reports from meetings, and experiences with Palestinians and Israelis.
Exclusive content is also available on Instagram, Twitter, and Facebook under the hashtag #JustFaith17.

Five members of the delegation were prevented from boarding the flight to Israel. The group of Jewish, Muslim and Christian leaders were possibly singled out for their public support of the Palestinian call for Boycott, Divestment and Sanctions (BDS) on the state of Israel. Upon arrival at the Lufthansa check-in counter at Dulles International Airport, an airline employee informed the group that the Israeli government had told the airline not to let them board.

Interfaith Peace-Builders and our partners are concerned that, at a time of heightened violence in the region, when Palestinians are praying outside the Al-Aqsa compound and on the streets, protesting Israeli restrictions on worship there, a small group of faith leaders and activists have been barred from even witnessing and lending an interfaith voice for peace.
This delegation is IFPB's 62nd, successfully exposing more than 1,200 people to the daily realities facing Palestinians in their quest for justice. We believe in the power of eye-witness experience and transformation. Given the opportunity to speak directly with Palestinians and Israelis, delegates return to the United States better informed, more energized, and with a deeper understanding of the possibilities for true justice in the Middle East.
At a time when Israeli forces have increased their daily repression of Palestinian civilians, including those excercising their freedom to worship, to speak, and to protest, this interfaith delegation seeks to respond and act in solidarity.
Use the menu at right to read Trip Reflections and view photos and videos from the delegation.




Photos from the July 2017 Delegation of the
Interfaith Network for Justice in Palestine
View more photos and videos from this delegation on Instagram
Media interested in interviewing the participants and groups wanting information about speaking engagements should contact Interfaith Peace-Builders at media[a]ifpb.org or 415.240.4607.