< Delegates In Action
IFPB DELEGATES CARRY EXPERIENCE HOME
Spring and Summer Delegates Spread Messages of Peace in their Communities
October 16, 2008 - Interfaith Peace-Builders' delegation alumnae has now reached more than 400 people and as peace in Israel/Palestine becomes ever more crucial, these committed individuals continue to make a difference in their communities across North America.
Interfaith Peace-Builders' 28th delegation in July-August 2008 was co-sponsored by the US Campaign to End the Israeli Occupation and explored many aspects of the Israeli-Palesinian conflict (to read reports from the delegation click here).
Below is a list of the delegates' appearances in the media and speaking events.
Interfaith Peace-Builders is proud of the delegates' continued activism. These successes are only the beginning of their education and advocacy in support peace and justice in Israel/ Palestine.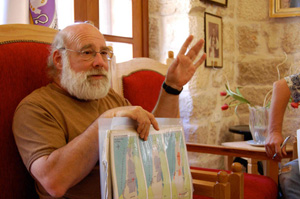 Jeff Halper of the Israeli Coalition Against Home Demolitions speaks to delegates at the Saint George Guesthouse in Jerusalem. (photo: David LaMotte)
Join our efforts by sending your contribution today. IFPB receives very limited foundation support and is dependent upon individual contributions to sustain our work. Show your support by making a secure online donation through our website. Click here to donate to help support Interfaith Peace-Builders.
Your support makes all the difference in our work for peace and a just resolution to the Israeli-Palestinian conflict.
SPECIAL EVENTS
IFPB Delegates Complete Special Projects and Receive Awards!
IFPB Board Member Granted Prestigious Prize: Scott Kennedy, a leader of 10 IFPB Delegations and member of the Board of Directors, has been presented with the prestigious El-Hibri Peace Education Prize. Dr. Mubarak Awad, founder of Nonviolence International, presented Mr. Kennedy with the award in a ceremony presided over by IFPB Board Member Barbara Wien on October 4, 2008. Representative Sam Farr of California also entered a congratulatory statement into the Congressional Record in Mr. Kennedy's honor. For more information, see this press release posted on the website of the Nonviolent Action Network.
Friends of Tent of Nations, North America: IFPB delegates have spearheaded a North American support network for the Palestinian organization Tent of Nations. This fall, Friends of Tent of Nations, North America (FOTONNA) are organizing a series of speaking events for Tent of Nations founder Daoud Nassar. Mr. Nassar will be speaking in the Washington DC metropolitan area, California's Bay Area, Connecticut and Massachusetts. for more information or to get involved see FOTONNA's recent newsletter.
Get Your IFPB Calendar Today: A group of Interfaith Peace-Builders and American Friends Service Committee delegates in Chicago have designed and printed a beautiful 2009 wall calendar. The calendar features photos and quotes from recent delegations and all proceeds benefit IFPB's scholarship fund to provide financial support to people who would not otherwise be able to attend a delegation. View the calendar online here and order yours today!
DELEGATES SPEAK
Participants on IFPB's Spring and Summer 2008 Delegations Make an Immediate Impact with the Media Events below and Much More!
Huwaida Arraf, co-leader of the May 2008 Delegation sponsored by the American Friends Service Committee's Third World Coalition, appeared on Democracy Now on August 22 to discuss her work with the Free Gaza Movement. Watch, listen or read the segment here. Huwaida was also featured on This Week in Palestine, a weekly radio program broadcast from WBIZ in Boston. Listen online here.
Michael Brown, co-leader of the May 2008 AFSC delegation and co-chair of the Interfaith peace-Builders Board of Directors, published this letter in the New York Times on August 21.
Kathleen Crahe, a participant on the May 2008 delegation published this letter in the Aspen Daily News on July 12 and this letter in the Vail Daily News on July 18.
Nancy Hernandez, a participant on the May 2008 Third World Coalition delegation, was interviewed on KPFA Radio's Bay Native Circle program on July 2 (listen here) and in Remezcla Magazine on September 1 (read it here). and bay Native Circle (July 2).
Gabriel Camacho, also of the May 2008 Third World Coalition delegation, was interviewed on WBIZ's This Week in Palestine on June 22 and on Boston's Arabic Hour TV program on June 28. Listen to the first interview here and watch the second here.
Shakeel Syed, a participant on the May 2008 delegation, was profiled in this article for the Muslim Media Network on July 17, 2008.
David LaMotte, a participant on IFPB's July-August 2008 delegation co-sponsored by the US Campaign to End the Israeli Occupation, was interviewed for this article in the Asheville Citizen Times on September 20 and this article in the Black Mountain News on September 24.
Denise Yarbrough, of the July-August 2008 delegation was interviewed for this article in the Penn Yan Chronicle Express on September 10 and submitted this piece to the October newsletter of the Episcopal Diocese of Rochester, New York.
Jake Williams, a participant on the July-August 2008 delegation, was featured in this article in the Omaha World Herald and this article in the Bellevue Leader (both published on September 8). Jake was also featured in a Kansas City Star article and in a piece published for his college newspaper, the Hilltop Monitor, at William Jewel College in Kansas City.
Isaac Kassis, a member of the July-August 2008 delegation, was featured in two articles. The first can be read here in Penn State University's Daily Collegian, on September 3. The second was published here in the October issue of the community released, Voices of Central Pennsylvania.
David Lamarre-Vincent, of the July-August 2008 delegation, was interviewed for this article in the Nashua Telegraph on September 20. David was also featured with IFPB Program Coordinator Mike Daly, in this piece which appeared in the Breubuf Preparatory Academy Alumni Newsletter on October 1.
Michelle Bahl, another participant on the July-August 2008 delegation, published this letter in the Wisconsin State Journal on September 25.
Felicia Eaves, co-leader of the July-August 2008 delegation, was featured on WRFG Radio in Atlanta on September 8 and WPFW Radio's Voices with Vision in Washington, DC on September 18.
Rob Sangster, an international travel writer and particpant on IFPB's March 2008 delegation, published an article in the October issue of International Travel News. The article is not yet available online, but a free trial issue can be requested by filling out this form (Rob suggests calling to request the October issue specifically).

DELEGATES PRESENT PUBLICLY
In addition to the numerous media venues listed above, delegates have been actively speaking in communities across the country. Presentations have been granted to local religious organizations, schools, Rotary Clubs, discussion groups, conferences and more. Many more presentations are pending as IFPB delegates reach out to members of their local communities. If you would like to book a presentation from an IFPB delegate in your community, please fill out and submit the form here.
WE NEED YOUR SUPPORT
In addition to these media appearances, IFPB staff are working with delegates to support speaking events in their home communities, adding to the more than 1,000 education and advocacy events since 2001. IFPB's 26th delegation promises to be as important for the people attending these presentations as for the delegates themselves.
All of this work is an extension of the transformative experience of an IFPB delegation. We need your help to support these grassroots efforts to educate and advocate for peace with justice. We need your support to keep delegations going to Israel/Palestine and continue the crucial follow-up work here in North America.
Please support our continued efforts. Give generously today to add your voice to those working for peace and justice.

---
JOIN IFPB DELEGATES IN MAKING A DIFFERENCE!
There are still open spots on IFPB's March 2009 delegation. The trip, entitled Cultivating Peace with Justice: Spring Planting Delegation will take place March 8 – 21, 2009.
Co-sponsored by the American Friends Service Committee, this delegation will feature meetings with Palestinian and Israeli peacemakers – leaders of civil society groups, grassroots organizers and more. The trip will also include themes relevant to the three major monotheistic faiths close to the spring holiday cycle. The delegation will participate in the spring planting and examine issues which confront the people of the region and their lands. You will hear from Palestinian farmers and learn of the importance of agriculture to the Palestinian economy and culture.
Click here to learn more about the March 2009 delegation.
---