2012 Olive Harvest Delegation
Interfaith Peace-Builders Delegation Arrives in Israel/Palestine
This delegation traveled concurrently with
the 2012 African Heritage Delegation > > >


October 23, 2012 - Interfaith Peace-Builders (IFPB) is pleased to announce that our 32 member delegation to Israel/Palestine arrived at Ben-Gurion airport Tuesday morning and is now safely in Jerusalem.

Reports and Photos from IFPB's 42nd Delegation (Oct. - Nov. 2012):

Delegation 42 Announcement
Report 1: First Impressions
Report 2: Oases: Real, Imagined, and Impossible
Report 3: A Day With The Olives (and other experiences)
Report 4: Loving the Land and it's People
Report 5: Returning With Open Eyes

The purpose of this delegation, the 42nd to make the trip since 2001, is to educate North Americans about the region and deepen their understanding of its conflicts.
The delegation focuses on the Palestinian olive harvest which takes place each autumn. The olive harvest is an occasion of particular cultural and economic importance for Palestinian communities and a time when tensions between Israeli settlers and Palestinian residents of the West Bank run high.
As the Presidential Election heats up in the United States, the US-brokered peace process continues to show few results and US military aid to the region continues to flow unabated. The Israeli-Palestinian conflict played a significant part in the US Presidential Foreign Policy Debate which took place on October 22 in Boca Raton, Florida.
Participants on this Interfaith Peace-Builders delegation have the unique opportunity to hear directly from Palestinians and Israelis regarding their hopes for peace and the role of the United States, the US government, and other international actors, in promoting a resolution to the conflict.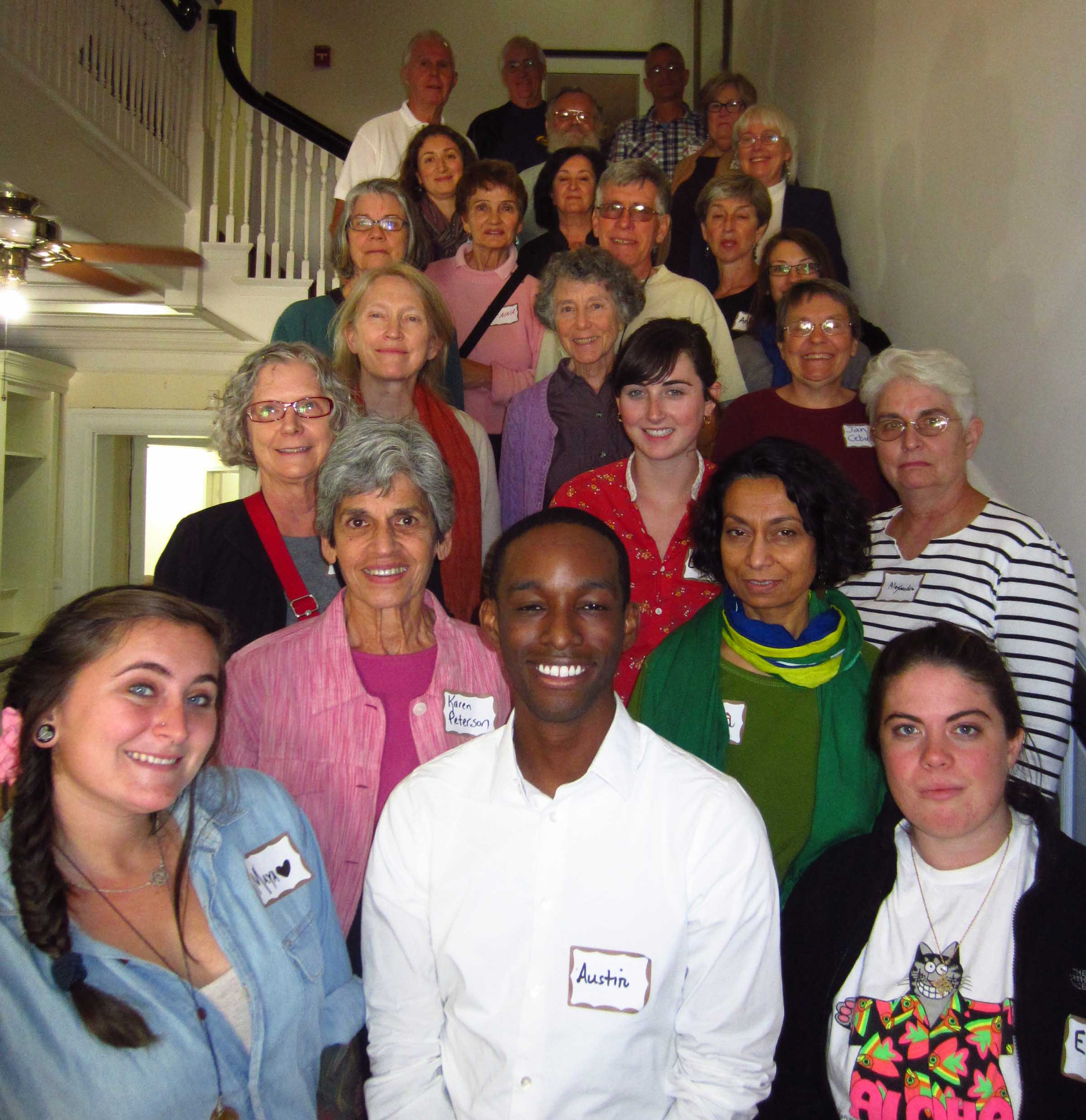 A photo of the delegates at orientation in Washington, DC


The delegation includes the following people:
Austin Branion - Arlington, Virginia
Veena Brekke - Madison, Wisconsin
Marsha Carlton - Davis, California
Jan Cebula - Clinton, Iowa
Andy Clarno - Chicago, Illinois (not pictured)
Laura Common - Toronto, Ontario (not pictured)
Cindy Corrie - Olympia, Washington
Craig Corrie - Olympia, Washington
Mike Daly - Boston, Massachusetts(not pictured)
Gary Doupe - Bainbridge, New York
Brian Fry - Grass Valley, California
Kathy Garbarino - Detroit, Michigan
Krystal Garvin - Washington, DC
Elissa Goss - Olympia, Washington
Maya Harris - Olympia, Washington
Wendy Hartley - Nevada City, California
Hanan Idilbi - Alexandria, Virginia
Darlene Jones-Owens - Carrollton, Georgia (not pictured)
Declan Keogh - Decatur, Georgia
Laila Liddy - Tuscaloosa, Alabama
Alexandra Lusak - Troy, New York
Sean McManus - Washington DC
George Meek - Arlington, Virginia
Elizabeth Moore - Olympia, Washington
Brad Ogilvie - Washington, DC
Arthur Pazia - Toronto, Ontario (not pictured)
Karen Peterson - Horseheads, New York
Jeanne Randorf - Otis, Massachusetts
Arlene Tolopko - Otis, Massachusetts
Ann Valtsakis - Hyannis, Massachusetts
Sonja Wentz - Olympia, Washington


Interfaith Peace-Builders believes in the power of eye-witness experience and transformation. Given the opportunity to speak directly with Israelis and Palestinians, delegates return to the United States better informed, more energized, and with a deeper understanding of the possibilities for true justice in the Middle East.
Upon their return to the United States, delegates will share their experiences with the public, the media, and their political representatives.
Media interested in interviewing the participants when they return, and groups wanting information about speaking engagements, should contact Interfaith Peace-Builders at media@ifpb.org or 415.240.4607.