African Heritage Delegation
Interfaith Peace-Builders' African Heritage Delegation Arrives in Israel/Palestine

This delegation traveled concurrently
with the Olive Harvest Delegation > > >
October 23, 2012 - Interfaith Peace-Builders (IFPB) is pleased to announce that our 15 member African Heritage Delegation to Palestine/Israel arrived at Ben-Gurion airport Tuesday morning and is now safely in Jerusalem.

Reports and Photos from the African Heritage Delegation (October - November 2012):

Delegation 43 Announcement
Report 1: "Our Greatest Strength is When We Come Together"
Report 2: Understanding Occupation, Feeling Oppression
Report 3: Final Observations
Follow-Up: Delegates in Action!
WATCH: Video from the 2012 African Heritage Delegation
MUST READ: Statement of the 2012 African Heritage Delegation

CLICK HERE FOR MORE ON THE AFRICAN HERITAGE DELEGATION AND TO SUPPORT THIS EFFORT
The African Heritage delegation will travel in Israel/Palestine for two weeks and meet with members of Palestinian and Israeli civil society, human rights organizations, grassroots activists and others.  Specific meetings will also feature African Heritage communities in Israel/Palestine, Jews of color (Sephardi and Mizrahi Jews), Palestinian refugees, and others whose unique experiences will contribute to the educational and activist aim of the delegation. 
This trip is the 43rd delegation to Palestine/Israel organized by IFPB since 2001, and the second African Heritage Delegation. The first African Heritage Delegation traveled in July 2011 (click here to read about that trip).
The goals of the delegation are:
To exchange lessons learned from Black Power, Civil Rights, anti-apartheid and anti-racist, pro-justice, struggles in the US with those waging similar campaigns in Palestine/Israel.
To strengthen African-American leaders who have on-the-ground experience in Israel/Palestine and can work for change upon return home.
To understand the role of racialized discourse and racial exclusivity in the political realities of Israel/Palestine, and to examine that discourse in relation to North America, and other colonial and post-colonial contexts.
To further link African American delegation participants with work being done in other anti-war, peace and justice communities in the US. 
The African Heritage Delegation builds upon existing efforts within the African Heritage communities and will strengthen work focusing on Apartheid in Israel, justice in Palestine, and the growth of boycott, divestment and sanctions campaigns nationally. In a 2007 "Letter to Black America on Palestinian Rights" over 40 African American activists urged:
It is time for our people to once again demand that the silence be broken on the injustices faced by the Palestinian people resulting from the Israeli occupation.
This delegation grows out of that call and ongoing efforts within the African American community. Participants on this delegation have the unique opportunity to hear directly from Palestinians and Israelis regarding their hopes for peace and the role of the US government in promoting a resolution to the conflict.
As the Presidential Election heats up in the United States, the US-brokered peace process continues to show few results and US military aid to the region continues to flow unabated. The Israeli-Palestinian conflict played a significant part in the US Presidential Foreign Policy Debate which took place on October 22 in Boca Raton, Florida.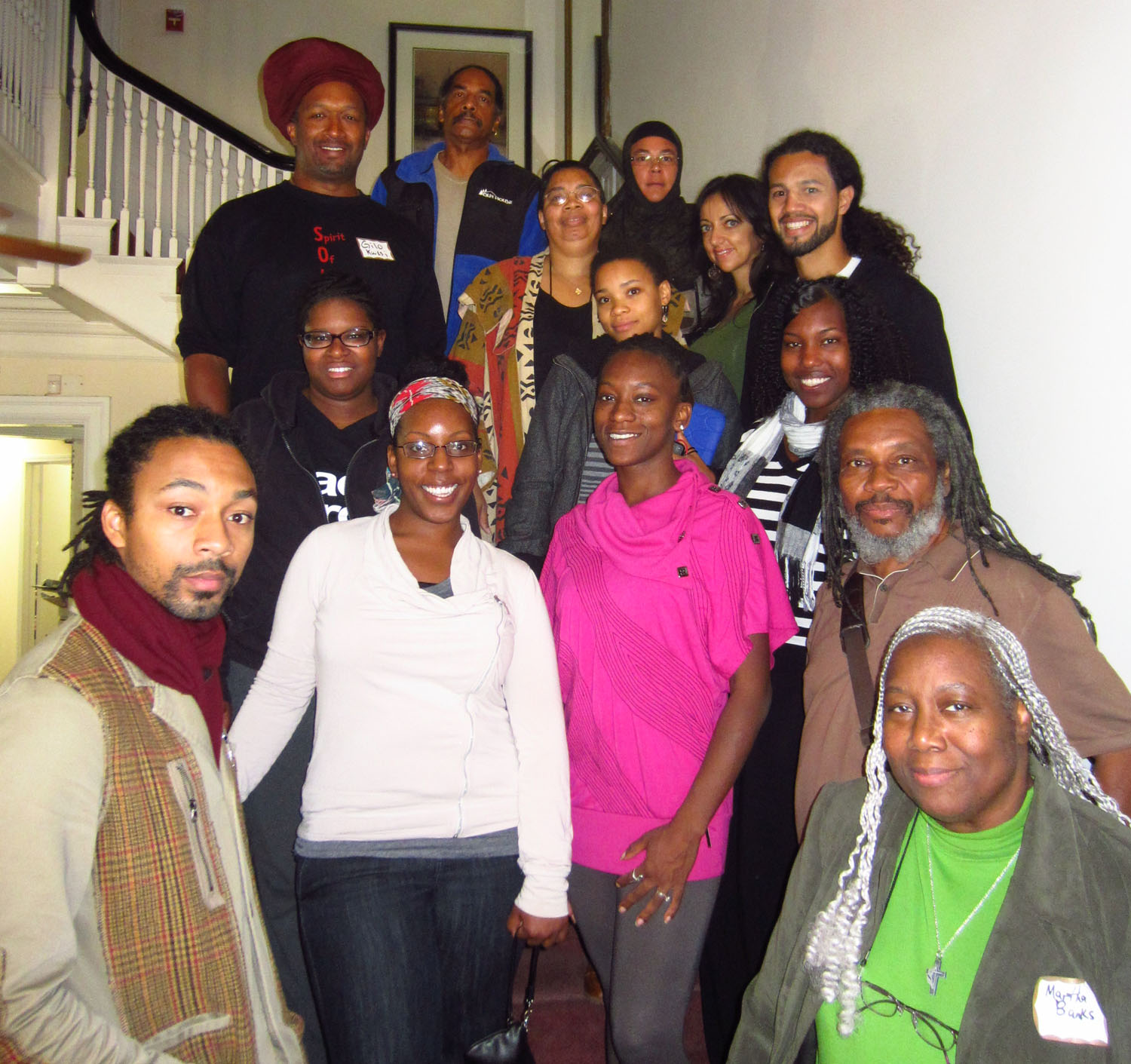 A photo of the delegates at orientation in Washington, DC
The delegation includes the following people:
Huwaida Arraf - Detroit, Michigan
Martha Banks - Fairlawn, Ohio
Daniel Castillo - Los Angeles, California
La Mikia Castillo - Los Angeles, California
Aaron Dixon - Seattle, Washington
Darryl Jordan - Philadelphia, Pennsylvania
Jennifer Lee - Santa Clara, California
Rev. Stephanie Lee - Akron, Ohio
Gilokwesi Logan - Evanston, Illinois
Rev. Joi Orr - College Park, Maryland
Melanie Smith - Rosedale, New York
Aisha Truss - Chicago, Illinois
Elandria Williams - Powell, Tennessee
Jamie Witter - Atlanta, Georgia


Interfaith Peace-Builders believes in the power of eye-witness experience and transformation. Given the opportunity to speak directly with Israelis and Palestinians, delegates return to the United States better informed, more energized, and with a deeper understanding of the possibilities for true justice in the Middle East.
Upon their return to the United States, delegates will share their experiences with the public, the media, and their political representatives.
Media interested in interviewing the participants when they return, and groups wanting information about speaking engagements, should contact Interfaith Peace-Builders at media[a]ifpb.org or 415.240.4607.