< Delegates in Action
IFPB DELEGATES BRING ON-THE-GROUND EXPERIENCE
TO MEDIA COVERAGE OF ANNAPOLIS CONFERENCE
December 5, 2007
Interfaith Peace-Builders' 25th Delegation to Israel/Palestine returned last month. The delegation, co-sponsored by the American Friends Service Committee, explored many aspects of the Israeli-Palesinian conflict and supported Palestinian families in the annual olive harvest (to read reports from the delegation click here).
Participants returned home from the delegation weeks before the US Administration held a hasty Middle East Conference in Annapolis. Returning IFPB delegates were uniquely situated to bring their own analysis of the current situation to local and regional media outlets around the United States and into Canada. Below is a list of the delegates' appearances on television and radio and in print media.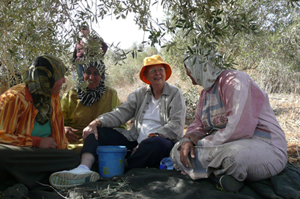 Delegate Joy Reis of Chicago, Illinois sits with Palestinian women during the olive harvest in Jenin, occupied West Bank.
Photo: Ursula Gallagher

Interfaith Peace-Builders is proud of the delegates' continued activism. These media successes are only the beginning of their education and advocacy as individuals are already planning speaking events and getting involved in other local initiatives to support peace and justice in Israel/Palestine.
Join our efforts by sending your contribution today. IFPB receives very limited foundation support and is dependent upon individual contributions to sustain our work. Show your support by making a secure online donation through our website. Click here to donate to help support Interfaith Peace-Builders.
Your support makes all the difference in our work for peace and a just resolution to the Israeli-Palestinian conflict.
DELEGATES ON TELEVISION
Delegates Judy and Mike White were interviewed on WMFD TV local news in Mansfield, Ohio on December 4. Download it here.
Delegation Co-Leader Scott Kennedy was interviewed on SoWatTV in Santa Cruz, California on November, 29 (video not available).
DELEGATES ON RADIO
WKSU Radio, an NPR affiliate in Kent Ohio, featured Doug and Mary Ann Kerr with John Tuzcu on November 26. Listen to the segment online.
Kathleen McQuillen and John Tuzcu were featured in an hour interview on WOI's Talk of Iowa in Des Moines and elsewhere in Iowa (audio not available).
Tom Baskett was featured in a short interview on Vermont Public Radio's Vermont Edition which aired during broadcast of NPR's Morning Edition on December 4. Listen to the interview online.
WLBY Radio's The Lou Perry Show featured Ron Stockton on December 1 (audio not available).
Additional radio spots are currently scheduled in Ohio and California.
DELEGATES IN PRINT
Doug and Mary Ann Kerr and John Tuzcu were featured in the Cleveland Plain Dealer on November 18. Read the article here.
The Wautaga Democrat of Boone, North Carolina interviewed Nancy Benson on November 21. Read the article here.
Carlie Numie was featured in this article published by The Daily Local News of West Chester, Pennsylvania on Thanksgiving Day, November 22. Carlie also published an article in her local Friends Meeting Newsletter.
The Attleboro Sun Chronicle of Attleboro, Massachusetts interviewed Martha Yager for this article on November 23.
Judy Gilbert was interviewed for two articles in the Orillia Packet and Times on October 23 and November 23 and one article in Orillia Today on November 23. Both newspapers serve Judy's community of Orillia, Ontario. Read one article here.
Tom Baskett published this letter to the editor in the Rutland Herald in Rutland, Vermont on November 27.
The Ashland Times-Gazette of Ashland, Ohio profiled Judy and Mike White in this front-page article on December 1.
Cathy Deyo Young was the subject of this article in the Grand Rapids Press of Grand Rapids, Michigan. The article ran on December 1.
Additional print media is forthcoming in Washington State, Minnesota, Michigan, Ohio, Iowa, Vermont, North Carolina and California.

---
WE NEED YOUR SUPPORT
In addition to these media appearances, IFPB staff are working with delegates to support speaking events in their home communities, adding to the more than 1,000 education and advocacy events since 2001. IFPB's 25th delegation promises to be as important for the people attending these presentations as for the delegates themselves.
All of this work is an extension of the transformative experience of an IFPB delegation. We need your help to support these grassroots efforts to educate and advocate for peace with justice. We need your support to keep delegations going to Israel/Palestine and continue the crucial follow-up work here in North America.
Please support our continued efforts. Give generously today to add your voice to those working for peace and justice.

---
JOIN IFPB DELEGATES IN MAKING A DIFFERENCE!
Our next delegation is March 29-April 12, 2008. National Peace Foundation board member Cathy Sultan and IFPB co-director Mike Daly will lead this delegation that will meet courageous Israel and Palestinian peace-makers, help plant trees on a Palestinian farm, and travel throughout Israel and the West Bank.
Click here to learn more about the March 2008 delegation.
---
Click here to donate to help support Interfaith Peace-Builders.