< IFPB DELEGATES CARRY EXPERIENCE HOME
Voices of the Peacebuilders Delegates Speak in their Communities
May 15, 2008 - Interfaith Peace-Builders is pleased to welcome back its 26th Delegation to Israel/Palestine. The delegation, co-sponsored by the National Peace Foundation, explored many aspects of the Israeli-Palesinian conflict and met Israelis and Palestinians working for a peaceful resolution to the conflict (to read reports from the delegation click here).
Returning IFPB delegates were uniquely situated to bring their new understandings of the current situation to local and regional media outlets around the United States. Below is a list of the delegates' appearances in the media and speaking events.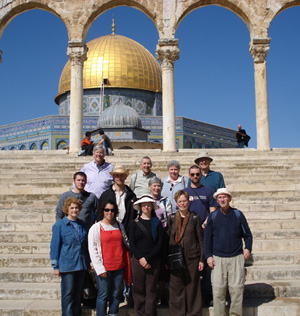 Delegates visit the Haram As-Sharif (Dome of the Rock) in Jerusalem.
Interfaith Peace-Builders is proud of the delegates' continued activism. These successes are only the beginning of their education and advocacy as individuals are already planning speaking events and getting involved in other local initiatives to support peace and justice in Israel/Palestine.
Join our efforts by sending your contribution today. IFPB receives very limited foundation support and is dependent upon individual contributions to sustain our work. Show your support by making a secure online donation through our website. Click here to make a donation.
Your support makes all the difference in our work for peace and a just resolution to the Israeli-Palestinian conflict.
DELEGATES ON TELEVISION
Rob Sangster was interviewed on WREG's Live at 9 interview show in Memphis on April 30. Watch the show online here.
Other members of the delegation have scheduled television interviews in the coming weeks. If you live in one of their home communities, watch your local listings!
DELEGATES ON RADIO
Delegation Co-Leader Cathy Sultan discussed her recent book "The Tragedy of South Lebanon" on Wisconsin Public Radio's Spectrum West program on April 23.
Jason Hicks and Delegation Co-Leader Cathy Sultan were featured in an hour long interview on Wisconsin Public Radio's The West Side with Mary Jo Wagner on April 29. Listen to the segment online here.
Rachel Baker, of Waltham, Massachusetts was featured on "This Week in Palestine," broadcast on WZBC Boston's Truth and Justice Radio program on May 11. Listen to the segment here.
Delegation Co-Leader Cathy Sultan was featured on the nationally broadcast Diane Rehm Show on May 12. Cathy mainly discussed the situation in Lebanon. Listen to the show here.
DELEGATES IN PRINT
Delegate Frank Williams was featured in this story, which ran in the Santa Barbara Daily Sound on April 17.
Frank Williams' trip was featured on the Santa Barbara news site Edhat.com on April 28.
Delegate Rachel Baker was featured in the Waltham Daily News-Tribune on April 30. Read the story here.
Delegate Jason Hicks and Co-Leader Cathy Sultan met with the Editorial Board of the Eau Claire Leader-Telegram on April 22 to provide a briefing on the delegation. The meeting resulted in the publishing of this editorial by Cathy on May 5.
Delegation Co-Leader Cathy Sultan was profiled in this article in the Eau Claire Leader-Telegram on May 11.
Delegate Bev Williams was interviewed for this article which appeared in the Wilkes-Barre Citizens Voice on May 12.
Additional media coverage is pending in local markets in Santa Barbara, Philadelphia, St. Paul, Memphis and Western Wisconsin, in addition to national magazines and other venues.
DELEGATES PRESENT PUBLICLY
In addition to the numerous media venues listed above, delegates have been actively speaking in communities across the country. Presentations have been granted to local religious organizations, schools, Rotary Clubs and discussion groups in Santa Barbara, San Francisco, Memphis, Eau Claire (WI), Wilkes-Barre (PA), Waltham (MA) and more. Many more presentations are pending as IFPB delegates reach out to members of their local communities.


---
DONATE TO SUPPORT INTERFAITH PEACE-BUILDERS
Nothing better prepares activists to work on the conflict than eyewitness experience. Your donation will further the education and engagement of new participants and build a larger, more diverse movement! Click here to donate online.
Donate for Scholarships: There are many enthusiastic people who want to go on a delegation but cannot afford it. Your donation to IFPB's Scholarship Fund will directly assist young people, low income activists, people of color, and interfaith leaders who want to participate in our work. Click here to donate online.
TRAVEL TO ISRAEL/PALESTINE WITH INTERFAITH PEACE-BUILDERS!
Your participation as an eyewitness will enrich your understanding of the conflict and empower your work back in the United States! Click here for information on upcoming delegations.